Not only is the Bench Solution wall mounted workbench a great way to save space in your garage, it can also double as a workspace for the entire family! Having a mounted workbench is ideal for nearly any room that has limited space. Below are just a few of the surprising, unique ways you can use the Bench Solution foldable workbench in your home.
Apartment Desk or Table
Living in an apartment or in an older home with small rooms can present a challenge sometimes. How can you make your limited space more functional? Often times, having space for a desk or even a dining room table isn't feasible when you live in a small space.
Try maximizing your space with Bench Solution's mounted workbench! This foldable workbench is a great solution since it folds down and out of your way when it's not in use, and locks into place when you need to use the table top space. Our workbench takes up less than four inches of space when folded down.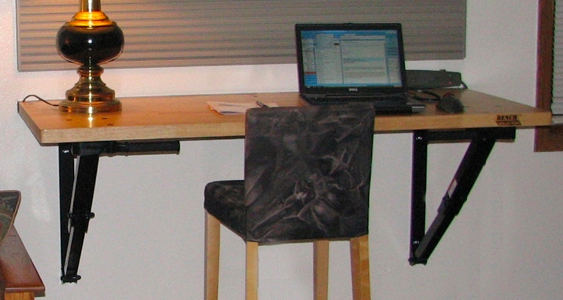 Scrapbooking Table
Scrapbooking has exploded in popularity in the last few years, and many scrapbookers struggle with keeping things from getting disorganized and messy. Finding scrapbook storage in a small space can prove to be quite the challenge.
That's where Bench Solution's wall mounted workbench comes in handy! Our heavy duty foldable workbench takes up little space while folded down, and offers a spacious, sturdy workspace for scrapbooking while in the upright position.
Why not also try out IdealWall for extra storage for all your scrapbooking knick-knacks? The slatted wall saves you even more space by doubling as a drawer/cupboard for all your extra scrapbooking tools. Keep all the necessities neatly organized and within arms reach.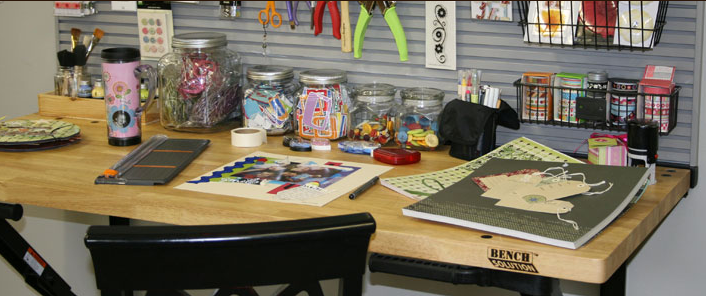 Sewing Table
Do you take over the kitchen table every weekend with your sewing projects? Or do you have an entire room set aside just for sewing?
Many sewing tables on the market today take up a ton of space! The Bench Solution mounted workbench gives you a large work surface without taking up space in your home. The workbench can be folded out of your way while not in use, and when upright serves as a great space to work on your sewing projects. Having the ability to choose the height at which you mount the workbench also provides you with added comfort for long projects.
If you're in need of some extra space in your home, check out the foldable workbench from Bench Solution! Call or fill out our contact form to get in touch with us today. We're happy to answer all your questions and provide the help you need.