Bench Solution
"The Fold-Away Workbench"
Do you find yourself searching for space saving ideas just to get the car off the street and back in the garage? Are piles cluttering walk ways and ruining the functionality of your garage? At Bench Solution we know how important every inch of garage space is. Bench Solution Folding Workbench a great way to save space in your garage or home, while providing the functionality you need and deserve. No more parking the car on the street or tight walking space with a Bench Solution Folding Workbench.
Built to withstand up to 400 pounds, Bench Solution is not only strong, but safe and durable. The solid hardwood butcher block work bench it the first of its size secured tightly in the up position with a two latch safety system to prevent unintentional lowering. Bench Solution can be placed at sitting or standing height to best suit your preferred method of work.
As an addition to Bench Solution, create more space in your garage or workspace with IdealWall slatwall system. Mounted above Bench Solution Folding Workbench, Ideal Wall allows organization and easy access to tools and accessories for your most important projects. From baskets and hooks to shelves and tool holders, Ideal Wall and Bench Solution Folding Workbench are the perfect solution to a well-organized garage.
Specifications
Bench Depth: 24 in
Bench Width: 60 in
Height: Adjustable/Customer Preferred
Fold Down Depth: 4 in
Weight: 118 lbs
Weight Capacity: 400 lbs
Bench Material: Butcher Block Hardwood
Hardware Material: 13 Gauge Steel
Assembly Required: Minimal
IdealWall
"Organization Made Easy"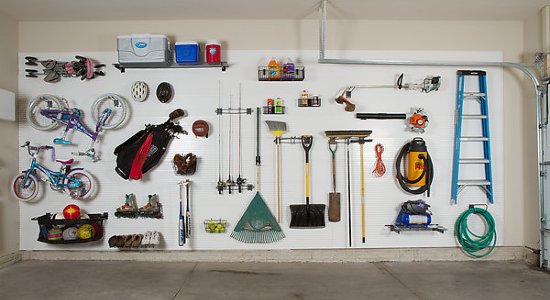 IdealWall is a slatwall panel with unique, one-inch groove spacing, allowing for exact placement of any item.
Cluttered, unorganized garages happen. It's time to reclaim your space with Ideal Wall hanging slatwall storage. IdealWall is the perfect solution for a cluttered, unorganized garage and workspace. The quality slatwall system offers a convenient method for hanging and organizing tools and equipment of all shapes and sizes.
Sports equipment, garden tools, and home improvement items can clutter a garage. Keep your expensive investments off the ground and within easy, organized access with Ideal Wall slatwall system.
IdealWall is sold in sets of three 96″W x 12″H x 1/4th polymer panels to allow the perfect amount for any size wall or bench. With easy installation and the ability to cut panels, IdealWall are a great solution for any unorganized area. The uniquely designed IdealWall lays flat to the connecting wall preventing insects from entering walls and accommodating most all slatwall accessories on the market. Additionally, a wide variety of accessories makes IdealWall the most logical form of garage organization. Baskets, hooks, and similar accessories organize tools and equipment of all kinds to get your valuable items off the floor allowing you to reclaim the functionality of your garage.
Specifications
Panel Height: 12 in
Panel Width: 96 in
Colors: White or Gray
Weight: 14 lbs per panel
Material: Vinyl Polymer
Accessories
"Affordable Workbench Organization"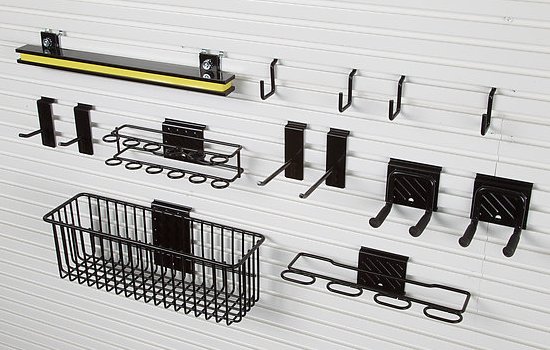 Accessory kits make the organization process easy. Need a way to hang the garden tools, kid's sport equipment, or pool toys? No problem, Ideal Wall offers a vast array of accessories to help organize a garage filled with almost anything. Depending on your need, starter and pro kits include a variety of the most necessary accessories.
IdealWall above a Bench Solution Folding Workbench is perfect for holding tools, nails, and odds and ends needed for projects. Accessories for above the work bench include:
Screw Driver Holder
Hammer Hook
Tool Holders (Multiple Sizes)
Baskets (Multiple Sizes)
Hooks (Multiple Sizes)
Magnet Tool Bar
9 Bin Tip Out Storage
Wall storage is perfect for sports equipment, bicycles, yard work tools and much more! Hanging wall storage includes:
Mesh and Wire Baskets (Multiple Sizes)
Hooks (Multiple Sizes)
Dual Hooks
Tool Holders (Multiple Sizes)
Golf Rack and Baskets
Garden Rack and Baskets
Shelf Brackets
Shelves (Multiple Sizes)