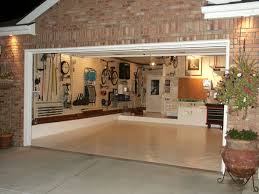 You drive by them all the time. Houses with cars parked in the driveway. Why? Because the homeowners have garages packed to the gills with boxes, equipment, and lots of debris. They're so full and jumbled that cars can longer fit inside.
But if you're listing your house for sale, you need to know that an organized and spacious garage is important. In fact, it can help you sell your home. Even if the rest of your home dazzles, a dingy and depressing garage can nix the deal. So don't overlook this important real estate.
Consider brightening your garage space. In addition to a fresh coat of wall paint, you may also want to paint the garage floor or install smart technology that links mobile apps to your locks, lights, and garage doors.
Next you'll need to sort your current mess into two piles for dumping and donating. Even after you clear your garage of unwanted materials, you'll still need places to store and sort your remaining items.
Bench Solution has dozens of creative ways and unique products to help you get your garage "show" ready and staged to sell. Square footage really matters when it comes to buyers. Make sure your garage appears as large and spacious as possible.
Our smart storage solutions are the perfect addition to any garage. And our affordable quality products make organizing a snap.
Begin with our IdealWall. It's easy to install and makes quick work of clutter. The more you can hang up and off the ground, the more space you create on the garage floor. Consider all the items you can place here — from bicycles to brooms and golf clubs to gardening gear. You'll appreciate the instant transformation in your garage.
If you have tools or a workspace in your garage, Bench Solution is a helpful product for you. This heavy-duty folding workbench stores all your equipment and creates a convenient work area. When not in use, just lower the bench flat against the wall. The entire workbench takes up less than 4 inches when it's folded down.
Our Bench Solution slat walls and accessories are perfect for all your smaller belongings. Use our hooks, bins, and mesh baskets for sports equipment, bike helmets, cords, shoes, wreaths, and other out-of-season decorations. You'll find storage uses for all the sizes and varieties we offer.
Now, pull your car(s) into your newly organized and clean garage. Homebuyers will notice your attention to detail and appreciate that the garage is tidy, clean, move-in ready.