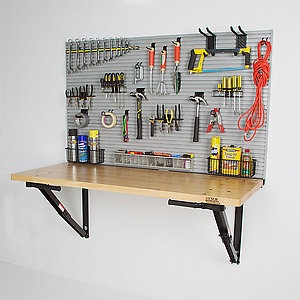 Maybe you're a carpenter who loves to build things. Perhaps you're a photographer who needs a large flat surface for your projects. Or maybe you're an arts and craft person who needs a workspace that folds away when not in use.
Whatever your passion, a fold-down workbench is a must have item for you. You're a creative, can-do person. Should you build your own do-it-yourself (DIY) workbench?
No.
And no for a lot of reasons. Why? A workbench is the most critical piece of equipment for your hobby or pursuit. It needs to be durable, high-quality, safe, and built to last.
The heavy-duty Bench Solution folding workbench is the only fold-away garage workbench of its kind. It maximizes workspace and organization without ever sacrificing valuable floor space. In fact, it takes less than 4 inches of space. Once you're done using it, it folds flat against the wall.
Following are five reasons it makes more sense to buy, and not build, a workbench.
1. Savings
If you think you'll save money building your own DIY workbench, think again. The economical Bench Solution is the best space-saving and most durable workbench on the market. When you factor in building materials and the value of your time, you cannot beat the price of Bench Solution.
2. Labor and Tools
To build your own, you'll have to use less expensive, more fragile materials. You'll need a full set of tools and a saw. You'll need to find or design a project plan. You'll need time. And then, at the end, you'll have to install the entire kit and caboodle yourself. Bench Solution ships ready made and is a cinch to install. Check out our easy installation guide for our products.
3. Time
Why not save time, stress, and money and order the easy-to-install Bench Solution workbench? Consider the value of your time. How much time will it take you to build your own on weeknights and on weekends? Once you order from Bench Solution, you'll receive the workbench in less than a week.
4. Safety
Safety is another major reason it's better to buy a workbench, rather than make one. At Bench Solution, our wall-mounted foldable workbenches are built to last. In fact, our simple two-latch design holds up to 400 pounds. Even if you make an incredible DIY workbench, most workbenches hold only about 150-300 pounds. Why build it yourself? All you need to do is click to buy Bench Solution.
5. Quality
If you're new to woodworking, building a workbench could be a lot to bite off for your first project. Even if you're an experienced carpenter, a long-lasting foldable workbench will require time you may not have. Will your finished product match the durability and safety of our Bench Solution?
At Bench Solution, we're proud of our quality. We love our satisfied customers. And we're here to answer all of your questions. Check out our instructional videos or contact customer service. We look forward to working with you.