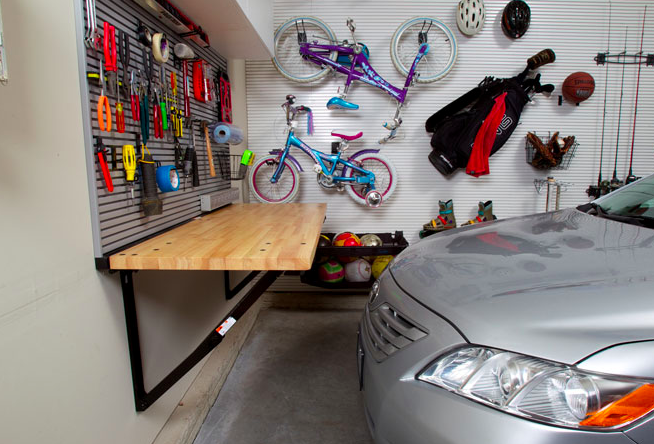 Did you miss the second annual "National Clean Out Your Garage Day" on September 12? If you answered yes, don't worry! We have you covered with a few helpful garage cleaning tips for fall.
Rediscover Your Floor
 Autumn is under way, which means if you haven't already put away your golf clubs, patio set, and grill – it's time to start thinking about it. After your busy, hectic summer, the floor in your garage may be invisible due to all the items that were just tossed aside and weren't returned to their proper locations.
Before you get overwhelmed and discouraged with the daunting task of finding space in your garage for all these items, consider adding a BenchSolution garage workbench or an IdealWall to save floor space. Our folding workbench takes up less than 4 inches of space when not in use! The IdealWall is easy to install and perfect for optimizing the wall space in your garage while getting things off of the floor and out of the way.
Host a Garage Sale
Who doesn't love a garage sale? This time of year is perfect for hosting a garage sale to get rid of items you no longer have a need for. Sure, it's easy to sell some of your items on Craigslist or eBay, but a garage sale allows you to sell multiple items to the same person and you don't have to pay any seller fees!
It can be hard to decide which items to part with, but a typical rule of thumb is to get rid of anything you haven't used within the last year. If you're looking for more tips on how to throw the perfect garage sale, head to Real Simple's website. They have great tips for getting organized and having a killer garage sale.
Separate into Zones
Another great tactic to keep your garage organized is to designate areas for specific items. Decide which area of your garage is going to be used for what purpose. By dividing your garage up into zones, you can make it multi-functional.
Do you need a space for coats and shoes? Designate a space for it. Do you need a workspace complete with a garage workbench and tools? Set aside a space for this too. The possibilities are endless, just ensure your garage fits your lifestyle and makes sense for your whole family.
With these organizing and space saving tips, our hope is that your car still fits in your garage this winter and your home remains in a balanced state.
If you or anyone you know needs to free up a little extra space in the garage, contact BenchSolution for a garage workbench that folds up, taking less than 4 inches of space. Our foldable workbench is sure to help you get more organized this fall!