Your home's garage is used primarily or cars and storage and workspace, right? Not if you're one of the 25 percent of Americans whose garages are so crammed full of extra stuff, they can't even squeeze in a single car. It's true: one in four of us has an extremely messy garage. While your house may be your castle, your garage may be your dark and dank dungeon.
Not only are cluttered garages an eyesore, they can even be cited by city governments for not serving their primary purpose: housing vehicles. Can you imagine being fined for not parking your car in the garage?
Excessive clutter in the garage can be frustrating, but can also be dangerous. Each time you go to the garage to your car or to retrieve something, you put yourself at risk for falls or from being bonked on the head by falling debris. If you're like many Americans, items you may have temporarily stowed in the garage may have ended up taking permanent residence there.
But never fear. Bench Solution can help even that 25 percent of the grungy population tame your garage. Everything we sell is designed to make life easier for you. Whatever your small or large goals—parking a car, creating a workspace, or simply de-cluttering—Bench Solution products save you space and stress.
And for the 75 percent who already have relatively clean and functional garage spaces, we'll help you ramp up and amp up your garage game. You're sure to love the following 15 gizmos and gadgets that will simplify your life. Remember that any of these solutions also make great holiday or birthdays gifts too.
Are you ready to organize and modernize your garage? Choose one, two, or all of the following products: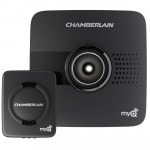 Put Power at Your Fingertips
How smart is your garage door opener? Ever driven off and wondered if you left the garage door open? Do you have new teen drivers who keep forgetting to shut the door? Now you can take control with a few swipes of your finger. The Chamberlain MYQ-G0201 MyQ-Garage allows you to control your garage door functionality from your smartphone. Using your own home's WiFi, this fabulous device means you can monitor, open, and close your garage door from anywhere on the planet. Whether you're at work, on the road, or on vacation, you're always in charge. You can also receive notifications whenever your garage door is opened or shut. Easy to install and compatible with most garage door models since 1993, you'll appreciate the sense of security and peace of mind this Chamberlain device delivers.
Like coiled snakes waiting to pounce, extension cords can get bunched up and knotted very easily. Stepping around them can be quite dangerous. Uncoiling extension cords is a time-consuming and frustrating task . . . especially if you just have a quick job you'd like to complete. Say goodbye to messy tangled cords. The wall-mounted Wonder Winder uses a hand crank to slurp up cords—much like you'd slurp up spaghetti. It's that easy. Designed for both indoor and outdoor use, this great invention stores up to 150 feet of 16/3 cord. At just over $20 per unit, how can you afford not to have the Wonder Winder?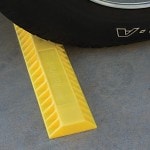 Know When to Stop
Perhaps you don't have very special spatial skills. Whether you share your garage with another car or space is just at a premium, this parking assistant device takes the guesswork out of parking. The Camco AccuPark uses resin strips to tell you when you're on your mark. Secured with adhesive tape strips, this product tells you exactly when and where to stop. No more need to inch back and forth. Stop on a dime, er, AccuPark strip, for accuracy every time.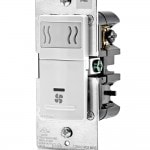 Keep Your Cool
On hot and muggy days, your garage can be a most unpleasant place. Use the Leviton IPHS5-1LW Humidity Sensor to tame the mugginess and moisture. With a sensitivity level adjustment, this device automatically detects humidity in your garage and activates your ventilation fan. Running this sensor also helps monitor mold and mildew. You can customize the settings to run at 10, 20, 30 or 45-minute intervals. While many people use this sensor inside their homes, why not try it in your garage to snuff out stuffiness?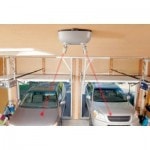 Leave Room for #2
If you have a two-car garage, you'll appreciate the Maxsa Dual Laser Parking device. Like the AccuPark product above, this product provides an extra measure of security. Now there will be no more accidentally bumping into containers, equipment, or garage walls. Installed using ceiling mounting, these lasers guide you into the perfect parking position. With no wiring required, you'll love the simplicity and protection of this laser-guided parking. Beam me up, Scotty.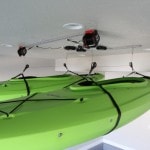 Save Your Back
Don't lift that bike or lawn mower or kayak. Let myLifter do the work for you. This easy to install system mounts to your ceiling and does all the heavy lifting you'll ever need. Using your smartphone, you can lift and lower objects with the touch of a button. It's never been easier to take advantage of your garage ceiling for storing bulky items above your car. You can even program the top and bottom locations for each of these items. Invest in the myLifter and streamline organization throughout your garage. What will you do with the time you save?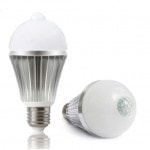 You Light Up My Life
It's late and you're returning home from work or an event. Unfortunately, your driveway and garage are both pitch black. Wouldn't it be nice if had a light to guide your path? Now you can. The economical 60 Watt LED Daylight Bulb with Motion Sensor illuminates whenever it detects movement. It's the brightest motion detection light on the market. The easy-to-install light bulb stays lit for 40-60 seconds once it's activated. Install one outside your garage for security and one inside for safety. No more fumbling for keys or walking in the dark.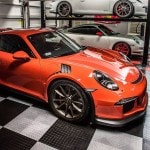 Ready to be Floored?
Look around your garage floor. Chances are you'll see at least one of the following flaws: oil stains, cracks, paint spills, moisture, or uneven surfaces. Now there's an easy way to cover all those blemishes and beautify your garage. With high-tech RaceDeck garage flooring, you can transform your garage in hours. With nine styles and 14 colors, you're spoiled for choice. And best of all? The entire process is do-it-yourself; you need no tools to install this spectacular flooring. If you ever move, you can remove these sleek tiles for use in your new garage. Enjoy style, function, and RaceDeck's amazing 15-year warranty. What are you waiting for?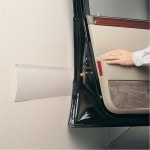 Protect Your Car Doors
Ready to say goodbye to (avoidable) dings, dents, and scratches on your car doors? Look no further than the Park Smart Wall Guard. Mount one of these plastic guards on your wall to protect your automobile door as it swings open. Guaranteed by a lifetime warranty, these durable guards cost less than $10 each. Compare that cost to how much you'll have to shell out if you damage your car door. Avoid body damage in the first place by installing these door guards onto drywall, studs, concrete, and bricks. Now you can open your car door with confidence.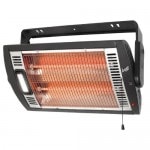 Banish the Cold
Winter months bring frigid temperatures. Yet you use your garage year-round. Whether you're working on your car, completing a construction or craft project, or simply searching for your storage items, there's no need to freeze off your tookus. Sure, you can use a floor space heater . . .. if you want to warm your ankles. A wall-mounted heater like the Comfort Zone CZQTV5M Ceiling Mount Quartz Heater keeps you toasty from head to toe. With two settings—760 or 1500 watts—and a 90-degree tilting bracket, you can direct the heat where you need it. Don't let the brisk weather keep you from your garage. Mount this sleek heater on the wall or ceiling and enjoy the soothing and safe heat.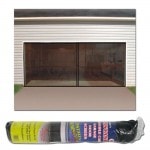 Screen Your Visitors
When the weather is nice outside, you want to work with the garage door open. But an open garage door is also an open invitation for bugs and pests. The IdeaWorks Instant Garage Screen door is the perfect solution. Easy to install, this wonderful screen keeps winged insects out of your garage and allows fresh breezes to blow through the space. For less than $30, you can now work in a protected outdoor space. Take back your garage. Bid adieu to bugs and say hello to uninterrupted productivity.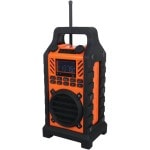 Pump Up the Volume
Rock and roll your way through any task in the garage using the Sylvania SP303-Orange Heavy Duty Rugged Bluetooth Portable Speaker. An iPod is fine, but the earbud cord may tangle up during your tasks. A radio is okay, but you need to walk over to it to tune it. But this durable speaker connects directly to all your devices, including your phone. With digital tuning, this portable device is the perfect hands-free solution for your garage. Water resistant and shockproof, you can carry on with all your work without fear of accidents. Enjoy this full range speaker system and whistle while you work.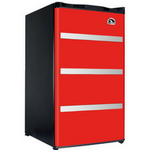 Time for Happy Hour
Working in the garage can be dusty, grimy, and sweaty hard work. Hammering, tinkering, sawing, changing oil, and painting may leave you hot and bothered. You deserve a frosty beverage—whether that's a Coca-Cola or a beer. Now, with the Garage Fridge Tool Box, a tall cool one is always within your reach. Designed to look like a real toolbox, this red mini fridge has a 3.2 cubic foot capacity. With four caster wheels, you can move this fridge wherever it's most convenient for you. A crisper, door can dispenser, and drip tray makes this the perfect container for all your drinks and snacks. No more tromping through the house to get your hands on what you need. Just reach out and grab it from this handsome outdoor fridge. Cheers!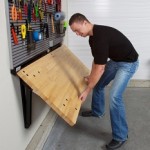 Save Space with Bench Solution
When space is at a premium in your garage, nothing beats Bench Solution. Our heavy-duty product—it holds up to 400 pounds—is the best space saving, folding workbench on the market. Here's how it works: With a two-latch safety system, the wall-mounted workbench folds down flush when not in use. The huge workspace (60"W x 24" D x 1.5") is perfect for even heavy-duty projects and the bench sits less than four inches off the wall when not being used. Its elegant design frees up an incredible amount of space in your garage. You needn't decide between having a workspace or a car in your garage. Trust Bench Solution for all your projects.
A Place for Everything
In most garages, the floors are crowded and the walls are bare. That's why IdealWall is the perfect organizational tool. Used alone or in conjunction with Bench Solution, this slat wallboard system allows you to organize a huge array of items you might normally leave on your garage floor: bicycles, rakes, golf clubs, strollers, shop vacs, and ladders, just to name a few. IdealWall also provides easy access to all these items, as you can see everything you own at a glance. With dozens of accessories—including baskets, racks, hooks, and bins—you can customize IdealWall to perfectly suit your needs.
We hope you've enjoyed these fifteen different ways to modernize your garage. By incorporating just a few of these products, you can truly simplify your life. And if you consider your garage an extension of your home, just think of the square footage you've added to your home's footprint.
At Bench Solution, we realize you're busy. Everything we manufacture is designed to help you become better organized. We believe all the other solutions and gizmos we provided here will save you time and stress. Contact Bench Solution today for a quote or to learn even more about our amazing space-saving ideas.