Has your junk drawer morphed into something big and powerful? Do you have a spare bedroom that is bursting at the seams? Have the producers of Hoarders called to feature you on an upcoming episode?
Bench Solution can help. Our slatwall system will make quick work of all your disorganization.
You may think a slatwall system belongs in a garage, but it can be used very tastefully in your house. We've compiled some creative examples how you can use Ideal Wall in your house or in your garage. You'll discover it's a simple solution to organizing your house, room by room.
Home gyms can be nice, but what do you do with all of the equipment? Ideal Wall has the perfect solution for the odds and ends laying around.
One idea is to use Ideal Wall to straighten up your craft room. Display bright items on the slat wall system and you'll have a focal point and a quick way to find everything you need at one glance.
Now let's spin another yarn. Knitters—is your yarn basket spilling over? Ideal Wall has the perfect solution, put your yarn on display. Use Ideal Wall to display your yarn with baskets attached to the wall. If you color coat your yarn, it can make for a very aesthetically pleasing wall, as well as very functional.
Everyone hates doing laundry. So why not make it easy on yourself? Use a combination of our Ideal Wall and Bench Solution. Add a folding table and a fun sign or two and even a garage space can look spiffy.
Do you have a small kitchen? Ideal Wall has the perfect solution for you. If you have a lack of counter space, use Bench Solution in combination with Ideal Wall.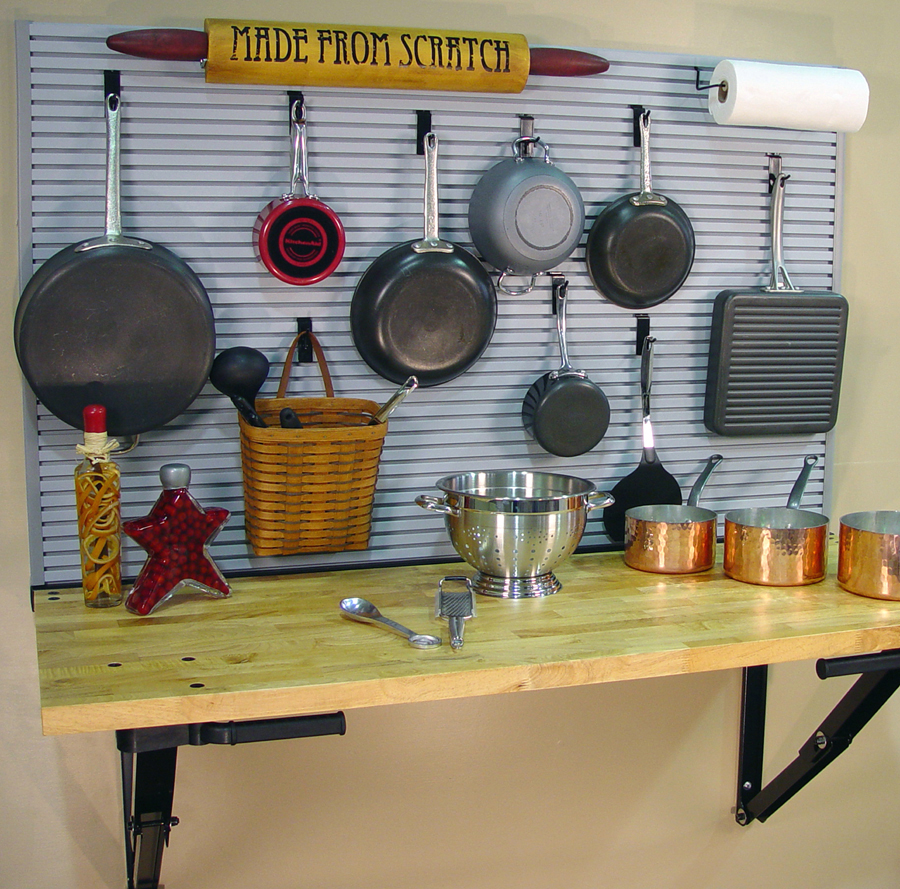 Ever tripped over shoes in your house? Put them up, up, and away. Use our Ideal Wall system to organize your kicks. Install it in the garage for shoes that are out of season or indoors for your in season shoes.
If you're a generous person, the type that buys presents for every occasion, a gift wrapping area is a perfect idea. If you don't have that much room, we suggest using Bench Solution, the fold-away workbench. Why? When not in use, it folds up against the wall so you can use that space for other activities.
No room for a proper garden? No worries. Use our Ideal Wall to create a hanging garden. This is perfect for for apartment or city dwellers. Who says it's not easy being green?
Now a little something for the purists, our traditional garage Ideal Wall storage system. Store anything on our slat wall system—from tools, balls, bikes, shovels, hoses, picks, and other gardening equipment.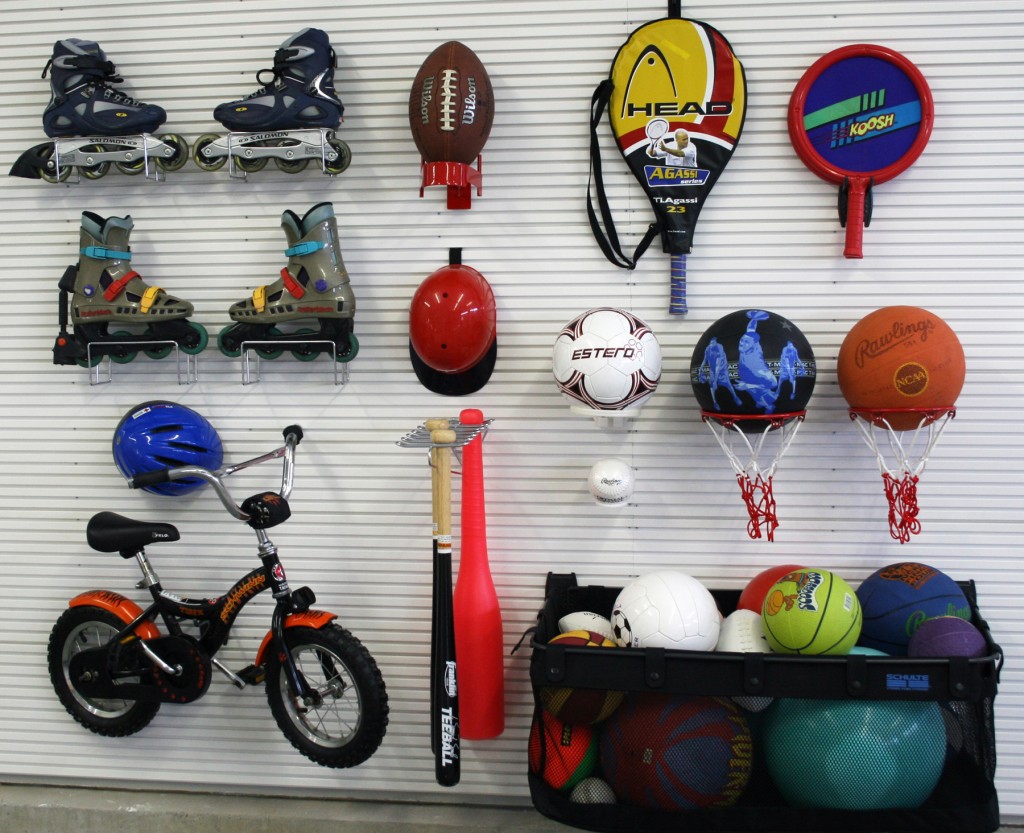 Ideal Wall makes it a snap to organize your garage. Simply place seasonal items on the slat wall so they're within reach.
Bench Solution's Ideal Wall is the perfect way to organize any room in your house. This versatile system is easy to fit into any space. Add accessories such as hooks and baskets to make organization a breeze. If you have any questions about the Ideal Wall system, visit our website or contact us.