Now that you have your home organized, you can shift your efforts to the parts of the spring cleaning checklist that will have your home sparkling. But you want to stay strategic here as well. You want to make sure that you follow these spring cleaning tips so that you are smart and thorough in your cleaning. For example, you do not want to wash your windows on a sunny day because any window cleaner is likely to streak in the heat of the sun—so pick a cloudy day for this chore. In general, you will want to clean your home room by room and follow these spring cleaning tips.
Take all of your supplies into a room that you will need. By committing yourself to a particular room, you increase the likelihood that you will stay focused on the task of spring cleaning and not get distracted. And if you take everything necessary (such as the vacuum cleaner, dusters, and wash cloths), then you won't waste time walking around the house chasing down everything that you need in the middle of tasks.
Start with tasks that will take the longest amount of time. This way you can be preparing for the quicker tasks while getting the most daunting out of the way while you still have energy and excitement for getting your house down. And be smart about how you choose to prioritize the tasks. For example, take down the curtains and throw them in the washer when you begin cleaning your living room so that they can be washing and drying while you complete other tasks. And they are also out of the way while you wash the windows.
Clean from the top of a room down to the bottom. You want to fight with clutter and dirt from the winter. But you do not want to pick a fight with gravity (no need to be the Sandra Bullock of spring cleaning!). Start at the highest points in a room when you are spring cleaning and finish with the flooring. This way you aren't contaminating clean spaces by moving upwards in your cleaning. And by having a specific plan of attack, you can be sure you get every detail.
Pay attention to the details. You want to make sure that you clean every possible surface. When spring cleaning, you want to move all furniture so that you are eliminating as much of the built-up dirt from your house—and it can pay off! The Connecticut Light and Power Company has found that a task as simple as pulling out your refrigerator and vacuuming the coils can improve the energy efficiency of your appliance while increasing the number of years of the appliance's life.
Involve the whole family. There is no reason that everyone in the house cannot help out. Spring cleaning can be a great opportunity for the family to spend some time together. Just be sure to be assigning age appropriate tasks to each person. But dusting or mopping are generally appropriate for most everyone—and can even be made into a fun game. Turn dusting (with supervision) into a race. Or turn your kitchen floor into a modified skating rink on which children are standing on mopping supplies where your family can laugh itself to a clean home.
Use a spring cleaning checklist. The best way to make sure that you are thorough in your spring cleaning is to use a specific checklist. And since there are so many out there, there is no need to re-invent the wheel. Modify our Spring Cleaning Checklist below or a list from a website—Pinterest has many options to choose from that are great starts to organize your spring cleaning.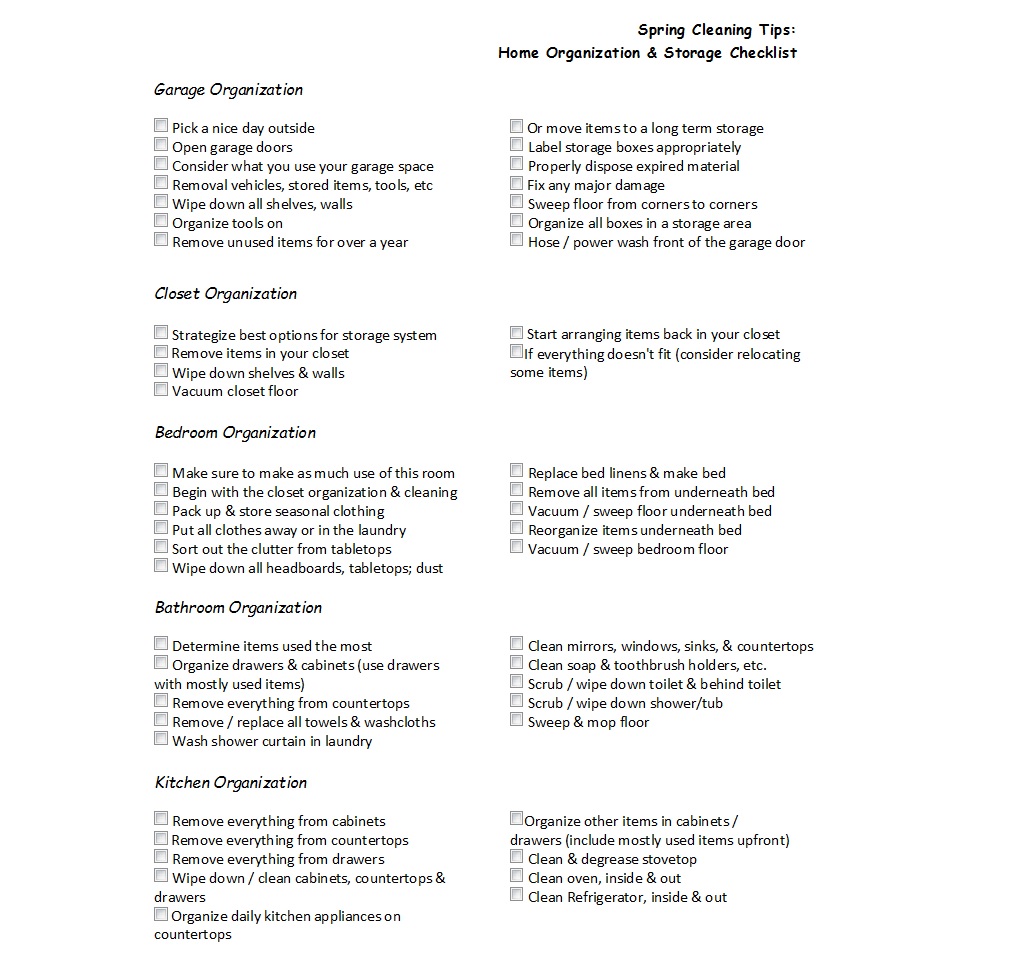 While you are already cleaning your home, you should go ahead and do a check of the safety of your house. This is the perfect opportunity to maintain detectors and equipment.
Smoke Detectors. While you are spring cleaning (and hopefully dusting and wiping down all ceilings), you will want to check all smoke detectors. Make sure that they are functioning properly by doing a test of them. (Most smoke detectors have an easy-to-use button for this purpose.) It is a good idea to also replace the batteries in your smoke detectors. Even if the batteries still have some life left in them. You already have to ladder out, so you might as well make the most of it. And you can save those batteries with some life left in them for another use. Better to have fresh batteries in a smoke detector and dead batteries in your kid's toy.
Carbon Monoxide Detectors. Consider these an extension of smoke detectors. Make sure carbon monoxide detectors are in working order. And go ahead and change the batteries in these as well.
Extinguishers. While you are pulling out and organizing all items, you want to go ahead and check your fire extinguishers. Make sure that they are still in operating condition. The National Fire Protection Agency code mandates that all fire extinguishers are serviced by a professional at least once a year. By making this a part of your annual spring cleaning, then you can guarantee that you will remember this easily forgotten task. You can also use this opportunity to review fire safety procedures with your family. For example, make sure that everyone in the family knows what kind of fire extinguisher you possess. The US Fire Administration classifies extinguishers based upon the type of fire they combat. It is good to keep up on the plan your family has for such an emergency, such as which type of fire can be extinguished.
Furnace filters. It is also smart to schedule furnace filter replacement with spring cleaning. A clean furnace filter can increase the amount of time until your next thorough cleaning by capture dirt and dust in the air. A dirty furnace filter can actually be a health hazard by pushing contaminants back into the air. An old filter can also be a fire hazard. So be sure to replace the furnace filter as a part of your spring cleaning checklist.
These spring cleaning tips will make your house sparkle with the new season. Spring cleaning is a task on the bottom of most people's list of favorite activities. But having a strategic plan for home organization and spring cleaning checklist can make the task much more efficient and effective. Make your house a place that you are proud of in the light of a bright day.