Organizing your garage can be a challenge, especially when you have so many tools, sporting goods, and seasonal items in your garage. It's that time of the year again for spring cleaning—from the home to the garage. To organize your garage you can utilize the garage walls and/or the ceiling. Before you start the garage organization process, start by zoning off your garage. Dividing areas will make it easier to find things in the garage.
1. The first zone should include things you grab when leaving the house. Ex: shoes, bags, and jackets.
2. The second zone is for things used frequently, including items like dog food, trash and recycling bins.
3. This third storage area is for things that don't take up much space, this includes rakes, shovels, and other lawn equipment that could be hung on something like a peg or slatwall system.
4. This zone is for things that aren't used often, or are seasonal, like Christmas decorations. These items can go in the front of the garage, high up and out of the way.
5. Lastly is the work zone, this should be where your workbench and associated items go, most typically in the front of the garage.
Using the Walls
Using the walls as a storage tool is great, so long as you leave enough space for a workbench, and enough space to hang your tools. Below, Bench Solution offers tips to help maximize your space and organize your garage walls this spring.
Bench Solution's foldaway workbench is perfect for a space-limited garage. Bench Solution saves floor space because it mounts to the wall and folds down flat against the wall when it's not in use. This workbench is able to take on heavy duty projects up to 400 pounds. This workbench, for example, is the perfect space to assemble furniture, do small arts and crafts, build toys for the kids, or work without fear of your workbench crumbling under pressure.
 Ideal Wall allows you to hang tools and things from the unique slatwall system. Brackets lock securely to the wall so your things stay on the wall for good. The Ideal Wall comes in a panel system with each panel measuring 96'x12'. This allows you to install Ideal Wall in your garage or workspace in the way that best fits your organization system. The Ideal Wall allows you to put smaller items in baskets that attach to the wall, and attach hooks for items like rakes, brooms and shovels.
Implement a hanging shoe rack for small things like spray paint that would normally take up floor or shelf space.
Recycle bin wall hangers are perfect for saving floor space in your garage. You can do this in three easy steps. Before you start, you need to make a cleat. You can make one by putting a 2×4 and over laying a 1×4 enough that the recycling bin can grab the 1×4. The photo below should help you visualize what it should look like.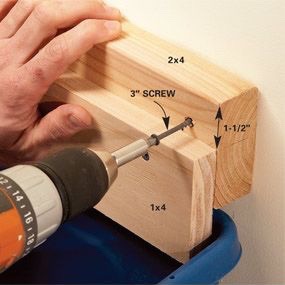 1) Install the bottom cleat
2) Measure the space between the bins
3) Install the cleats based on the space in between the bins
Create a storage platform to access infrequently used items that you don't want on the floor. You can create a shelf that spans the entire length of the upper portion of the wall. Depending on how far you want to span the shelf, this could potentially provide an additional 150 feet of storage.
If you have tons of sport and leisure equipment, such as soccer balls, basketballs, and footballs and haven't found a good storage solution, a ball net, as shown below, is a great solution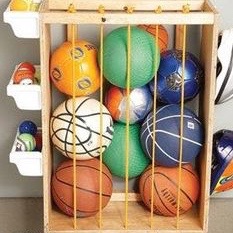 Add Magnetic Strips to help hold small parts that can be a pain to organize in the garage. Keep little parts such as drill bits, nails, and wrenches out of the way, but easily accessible, by implementing magnetic strips around your workbench.
Using the Ceiling
If you have rafters in your garage, mounting a concrete form tube to the rafters and dividing the tube into fourths can make storing things like wood or pipes much easier.
Organize small tools and other objects that could be dangerous to children, such as nail guns and staple guns, in overhead storage sliders. The bins are out of reach, but still easy to access, making them the perfect tool storage solution.
Hooks for sports equipment save floor space for your bikes, sleds, and other fun objects. You can also install ceiling hooks for your kayaks, stand up paddle boards, and other seasonal sports equipment. Especially in the winter months, when your bikes aren't being used, save the floor space for your snow blower.
Plastic bins in the rafters are a great way to keep Christmas lights and decorations off the floor and out of sight out of season. Be sure to label your boxes as you organize to make things easier come holiday season.
If you are in need of storage solutions for your garage, the Ideal Wall and Bench Solution make for a great addition to any garage. Fill out the contact form or go to our website for more information.