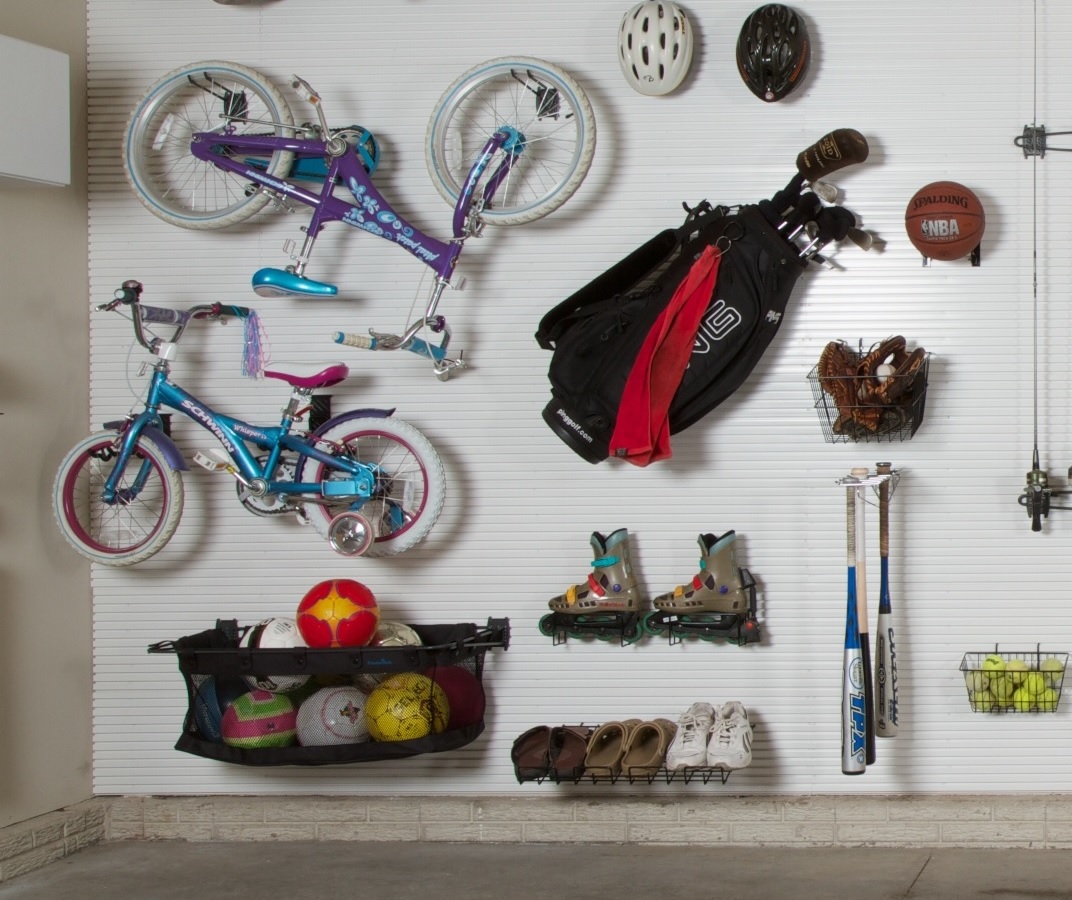 The great modern debate of what sport is truly America's pastime has gained momentum in popular presses. Football, baseball, basketball (and any number of additional sports) all captivate the country during their respective seasons. And America excels at both participation and celebration of these sports. So while the debate regarding which of these sports dominates as America's pastime may continue, one clear fact remains—Americans love sports!
Sports are not just a professional activity; they are an everyday habit in American life. A recent study conducted by the Michigan State University found that two out of three American children play a sport. Nearly 35 million American homes have an aspiring (or successful) athlete in the home. And 85% of all high school coaches have a child who has competed on his or her team. So American homes are full of athletes. But where do these homes store all of that sports gear? (Particularly because 58% of all student-athletes participate in more than one sport.)
Storing sports equipment in the home can be quite difficult. Outdoor sporting activities (and many indoor sports as well) can require bulky equipment that may not be the most pleasant for the indoor senses. Cleats may be muddy. Pads may be stained. And gear may be a bit stinky. Indoor space can be difficult to donate to the task of storing sports equipment because indoor storage is a limited, but hot, commodity. Realty expert Brendan DeSimone explains that closets can literally be the most valuable resource in a home. The size and location of a closet can greatly impact the overall value of a home. And many people struggle to allocate such limited and important space to the storage of worn shoes or sweaty gear. Given the lack of indoor space and (sometimes) weathered condition of the sporting gear, storing sporting equipment can be a difficult task in the process of home organization. Storing sporting gear inside the home is not always ideal…but it can be possible.
The limited (and invaluable) space of closets in the home can function to store sporting equipment under the right conditions. A sport equipment storage strategy is key to successful sports storage. Racks, hooks, and pegs can help minimize clutter and organize equipment into manageable chaos in the home. Acquiring the correct organizational tools can allow the indoor closet space to store the outdoor equipment.
A more ideal space for sports equipment storage may be the space that functions between the indoors and the outdoors: the garage. Garage storage may be ideal for sports equipment storage because it offers the protection from the elements of the indoors without the hassle of actually bringing all that dirt and clutter into the home. But successful sports equipment storage can be difficult. There are several challenges to this task of home organization.
Sports equipment storage can be overwhelming, even in an ideal space like the garage. After practices, games, and tournaments, it is easy for the chaos of sporting equipment to overtake the organization of the garage. Many people find that the garage becomes a place for parking their sports gear at the expense of being able to park their car inside the garage. Once again, a sports equipment storage plan is the ideal weapon to combat this reality. And finding the ideal products for the sports equipment storage demands of the particular athlete is key.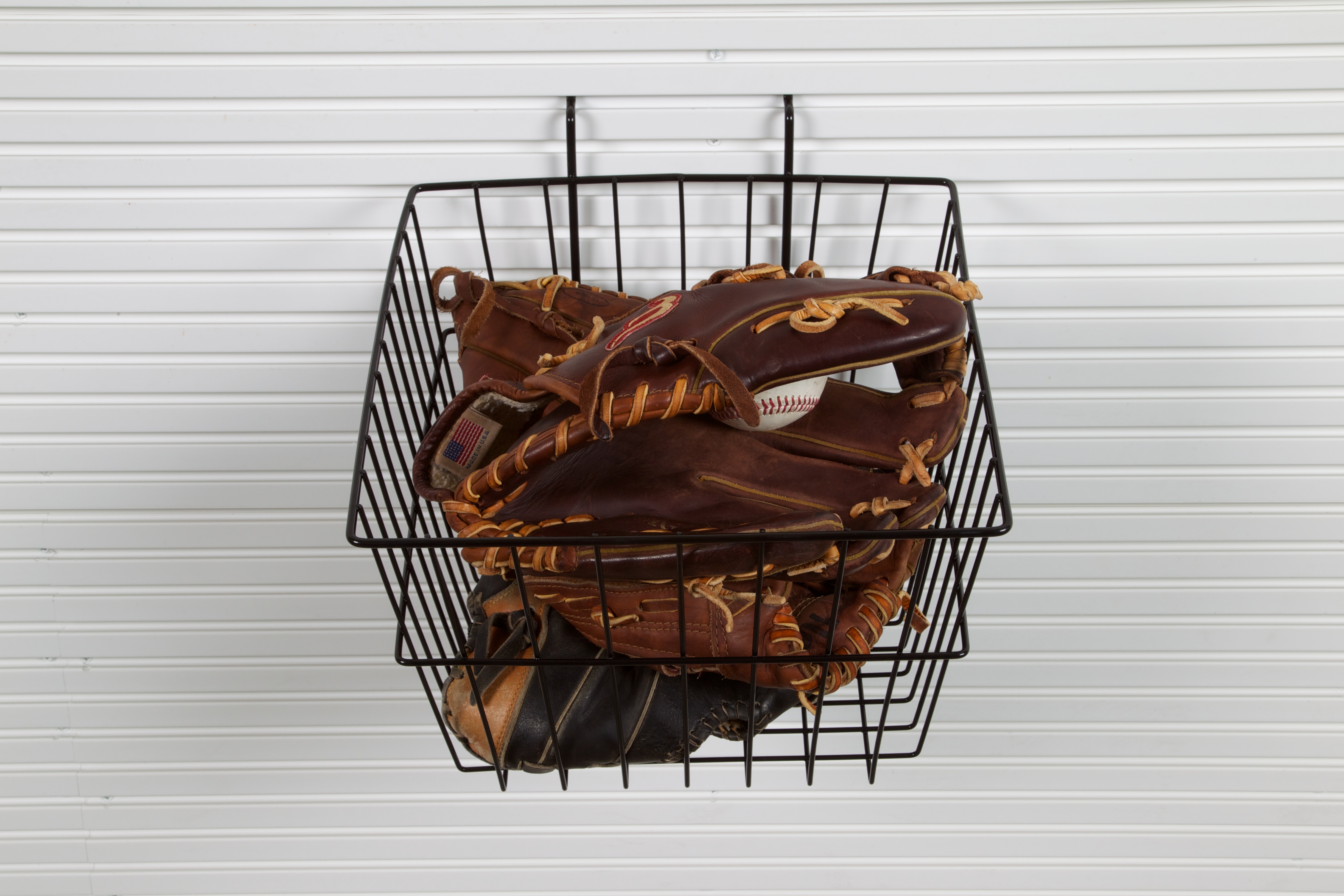 The key to getting sports gear organized is moving it off the ground. Wall storage systems can be the ideal strategy for combatting the clutter of sporting equipment storage. Slatwall offers an ideal wall storage system that is both appealing and functional. IdealWall design is perfect for finding space for all of the sports equipment storage. The IdealWall Accessories can customize any garage into the perfect storage system and home organization center. This storage system has multiple accessories specifically designed to hold sporting equipment: bat rack, golf rack and basket, fishing pole rack, skate rack and basket, and bike rack. These IdealWall accessories are designed to hold the sporting equipment most common (and difficult to stow) in any home. The product line also has multiple accessories designed for more general storage that can be perfect for additional sports equipment storage: mesh baskets, hooks, and shelves. The Slatwall, IdealWall, and accessories can make it easier for young athletes to properly store their equipment. The home (or garage) does not need to become a locker room.
Sports are an important part of American culture. And home organization is an important part of the home. There is no reason that these two American values cannot co-exist. Developing a strategy for sports equipment storage can allow children to maintain the sporting equipment important to their activities and the home organization necessary for successful living. The IdealWall storage system provides wall storage that makes sports storage equipment easy and painless. Sporting events should be pastimes that everyone can enjoy…including the people responsible for cleaning them up.