A garage is a great place to keep your expensive investments like cars and tools safe from the elements. But what if the car can't in the garage and the tools are nowhere to be found? Sounds like time for a day dedicated to organizing the garage. Tedious as it may sound, with these simple space saving ideas, organizing your cluttered garage can be easy!
Set Aside Enough Time
To ensure adequate time to organize and de-clutter the garage, dedicate a plan-free weekend with nice weather, and recruit help from family or friends to get the job done quickly.
Empty the Garage
Begin the garage organization process by clearing out the garage entirely. A clear, warm day is perfect for organizing items in the driveway or lawn. Removing all contents from the garage floor and walls allows space for sweeping the floor, painting walls, or spraying-down the garage if needed before adding storage and moving items back in.
Categorize Garage Items
As the garage is emptied, place items in categorized piles to simplify organization. Separating gardening tools, recreational items, work tools, and other supplies into different piles will make moving items back in much easier.
Decide What Items to Keep, Trash, and Donate
Once items are separated into piles, decide what will be kept, tossed, or donated. Tossing expired or rarely used items is a good start to de-cluttering. Contact your local recycling center to find out how to expose of items such as paint, old wood, or plastic objects. Toys your children have outgrown and unused tools are great items to donate to those in need.
Folding Workbench (Bench Solution).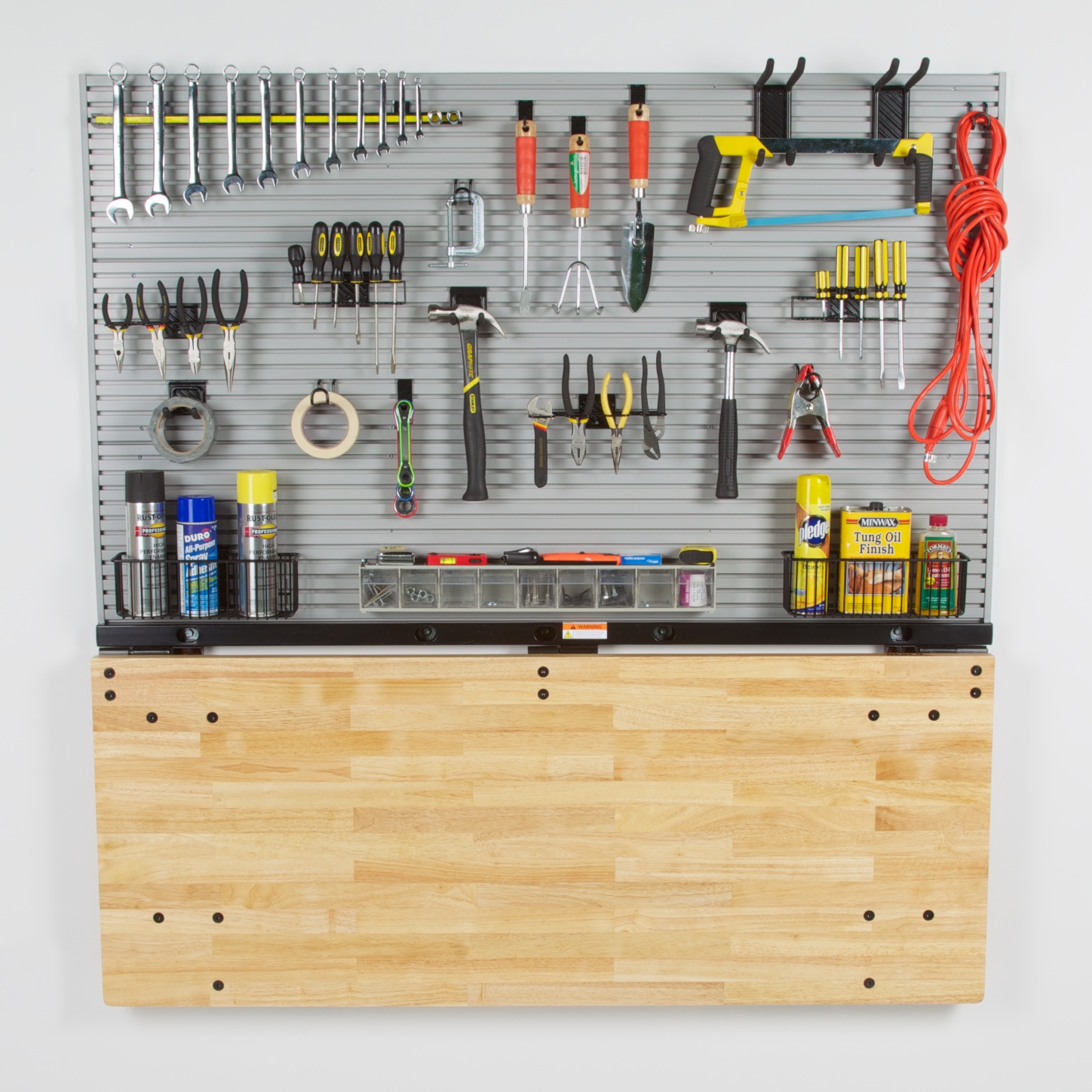 A folding garage work bench like Bench Solution is the perfect way to maximize workspace without sacrificing floor space. Bench Solution's folding garage workbench holds up to 400lbs of tools, crafts, or projects at any given time. At the end of the each task, Bench Solution folds down flat to the wall, maximizing space and allowing a car to be pulled in the garage easily.
Additional wall storage from IdealWall above the Bench Solution folding workbench is an organized solution for easy access to tools of all shapes and sizes while using the Bench Solution folding workbench.
Wall Storage (IdealWall)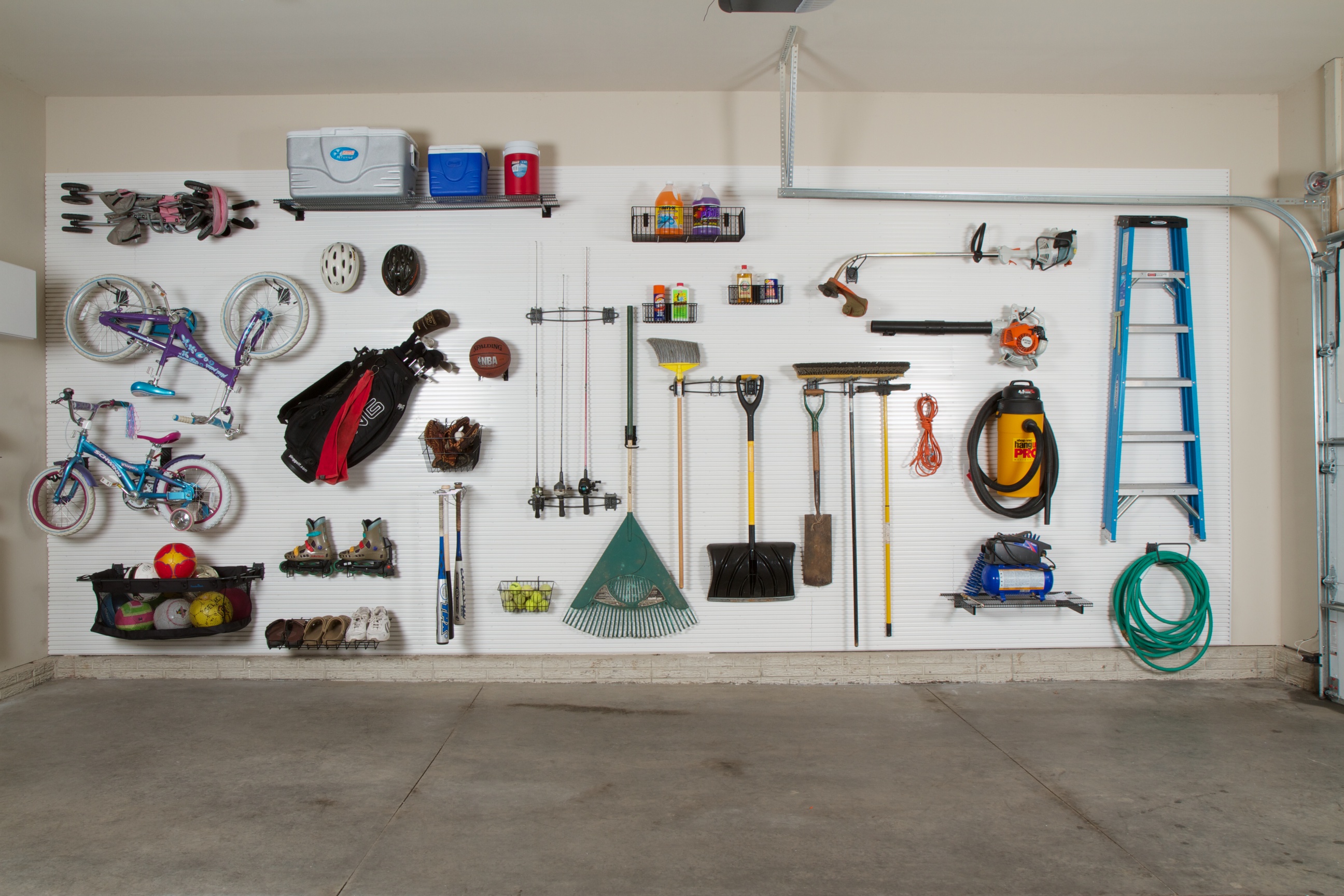 IdealWall is a slatwall panel with unique, one-inch groove spacing that allows for customized placement of any item or tool.
Keep items such as sports equipment, toys, and gardening tools organized and off the ground by installing wall storage from IdealWall wall storage along any wall in the garage. This easy to install wall storage allows for customized organization with different settings, hooks, and hanging options. IdealWall is sold with baskets, hooks, shelves and racks of many different shapes and sizes to help maximize space and keep small and large objects off the floor.
Group Like Items Together
Once the garage is clean, items are organized into piles and adequate storage is installed, begin moving items back into the garage. Place like items in boxes or storage totes and label boxes and totes to avoid stressful searches for misplaced items. With both wall storage and shelving, place rarely-used items in harder to reach places and frequently used items at eye level or where they will be found easily.
Get Organized Today
Summertime is the perfect time to take charge of your messy garage. Follow these space saving ideas to turn a stressful, cluttered garage into an organized, useful storage and work space. Best of luck!