Your home is your castle, a place of refuge and peace. Yet 84 percent of Americans report that the disorganization and clutter in their homes makes them feel stressed.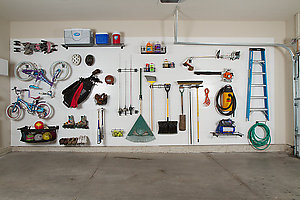 For many people, floor space and closet storage are scarce resources. As garages begin to serve as dumping grounds and closets fill to capacity, people run out of space and feel overtaken by "stuff."
When your home is crowded and cramped and you feel stressed, what can you do? Look no further than your walls.
The Shakers knew a thing or two about simplicity of design. In fact, many of their rooms featured a peg rail mounted at shoulder length to provide space to hang up clothing, baskets, and other items. They created these rooms and made smart use of built-ins to keep the floors clear and the rooms clutter-free. You too can take advantage of wall organization to simplify your home and reduce stress.
Whether you need more storage space in your garage or your workspace, Bench Solution has loads of easy-to-use organizational options.
Say goodbye to clutter and say hello to wall-mounted storage cabinets, shelves, hooks and racks. Think of the endless possibilities these solutions provide. Think of the time you'll save searching for items you need.
With Bench Solution's wide range of products, you can simplify just like the Shakers. Use empty wall space to:
Place all your sporting equipment in one location.
Organize your craft supplies in wall-mounted storage cabinets.
Tame your stack of photographs by storing them in mesh baskets or wall-mounted cubes.
Mount your bikes and yard equipment to free up limited floor space.
Using the slatwall panel system makes organizing a snap! You'll love the structure and symmetry these products provide.
Among the many advantages of using a slatwall system, you'll appreciate the durable and attractive design, the easy-to-install components, and the slatwall versatility. That's because—in addition to our many slatwall accessories—you'll discover that any hook or shelf you use is compatible with Bench Solution's slatwall panel. How's that for convenience?
No matter what items you need to organize, you'll find the perfect home for them in slatwall baskets, racks, shelves, or cubes. Start the New Year off right by resolving to organize your life with Bench Solution's wall mounted storage products.