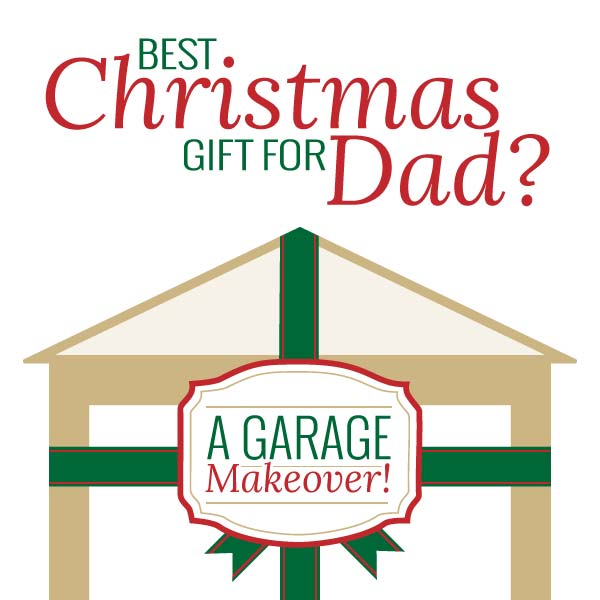 Christmas shopping for Dad—Not an easy task! Sometimes it seems like Dads have every power tool, piece of sports equipment, and grilling gadget on the market. Luckily, Bench Solution has the perfect holiday gift this year for the Dad who has it all!
The best Christmas gift for Dads this year? A garage makeover! Help your dad organize his tools, gear, and equipment by gifting him a Bench Solution folding workbench, IdealWall wall organization system, or both! Below, Bench Solution offers advice to giving your Dad the ultimate gift this year: A garage makeover!
Bench Solution Folding Workbench
A Bench Solution folding work bench provides the functionality and durability of a regular workbench, while saving valuable garage space. Easy to install, the Bench Solution folding workbench is the perfect gift for a dad with numerous projects and limited space.
Bench Solution folding workbench takes up no more than four inches of space when folded down. When in use, the workbench has a two latch safety system that supports up to 400lbs. The solid wood butcher block top is the perfect surface for projects of all kinds.
Wouldn't it be great to have the Bench Solution installed and ready for Dad on Christmas morning? Installation is easy. Self-installation requires access to a few tools and general knowledge of how to use them. You can find installation directions here.
Ideal Wall
For the Dad constantly running to ball games, gardening in the back yard, or out on the golf course, IdealWall organization system is the perfect way to keep sports gear, yard tools, and golf clubs off the floor and organized for easy access. Ideal Wall is a slatwall panel system with unique, one-inch groove spacing, for exact placement of any item. IdealWall is customizable to fit almost any garage, and supports a ton of awesome accessories. From hooks, baskets, magnetic strips and tool holders, the IdealWall organization system is perfect for the Dad with a variety of hobbies.
Check out the wide variety of IdealWall accessories here.
The opportunity to purchase Bench Solution folding workbench and Ideal Wall together makes gifting Dad a garage makeover an even better deal! To purchase Bench Solution and IdealWall together click here.
Completing the Garage Makeover
A Bench Solution folding workbench and IdealWall organization system will kick start any garage makeover process. From there, take an afternoon to clean and organize the garage for your Dad.
Below are a few tips to help aid your makeover process:
• Organize items by season, category, or frequency of use.
• Place items that are used more frequently at eye-level or within reach.
• Label containers, cabinets and drawers to help locate items quickly.
• Keep a broom and dustpan near the door to keep rocks and dirt from being tracked in the house or vehicles.
For more advice on organizing the garage visit Bench Solution's blog. If you are interested in more information about Bench Solution or Ideal Wall visit our website or give us a call at (319) 730-0340.