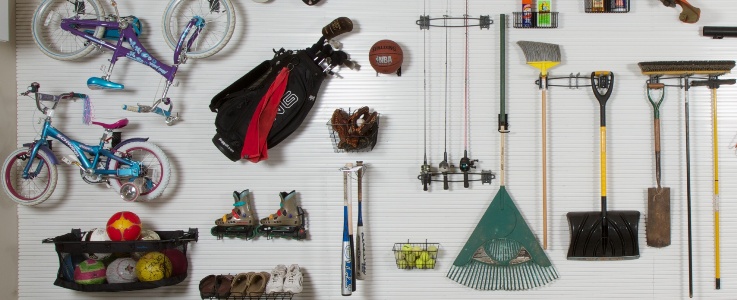 A garage wears many hats in today's world. Not only does it provide shelter to your vehicles, it also is provides a workspace for your many projects. That's not all. If you are like many people, your garage plays home to such things as your mower, snow blower, tools and supplies, bikes, bins, trash cans, golf clubs…and just about anything else that can't fit inside your house.
With all this "stuff", space is at a premium, forcing you to get a little creative. Let's discuss a few ideas on how to organize your garage, while maximizing your floor space and work space.
Take Inventory. This step is a must, and truly should be done at least once a year. Garages seem to attract junk that will never get used again…yet it continues to accumulate. Take an honest approach, and simply get rid of unused, unnecessary items. Have a giant garage sale if need be. With the remaining items, take the time to organize things and develop a plan for storage. One thing to consider is how often you will need access to it. That will play a role in where it will be stored.
Utilize Your Walls. Maximizing your floor space all starts with actually getting things off of your floor. One great way to do that is taking advantage of the wall space. How can you do that? One way is to install shelving throughout your garage. You can create a ton of additional storage space. For example, you could add a 3 or 4 foot deep shelf around the perimeter of your garage walls. This is a great place to store seldom-used items, holiday decorations and storage bins.Another way to utilize your walls is by installing high-quality slatwall paneling. There are countless slatwall accessories from bins, baskets, hooksand shelving depending on what your needs are. This is a great option for organizing everything from tools and bits to gardening supplies to bicycles and golf clubs. Not only does it help you know where everything is at, it frees up some much needed floor space.
Also, if you happen to be someone who needs a functional workspace in your garage…but don't have the necessary space for a bulky workbench, you should strong consider installing a wall-mounted workbench that folds down when not in use. It provides the workspace you need when you need it, and simply collapses and folds down when it's not in use.
Utilize Your Ceilings. Unused ceiling space can be a gold-mine for additional storage space. It is an ideal place to store items that aren't frequently used, as well as storage bins and bikes.
Hopefully these simple suggestions can help you unclutter your garage, and help you discover functional floor space that you didn't know existed.