Are you frustrated with the lack of space in your apartment? Do you want to transform your loft into an extra room or office? Are you away at college living in a dorm room with lack of space? Don't sweat it! There are many space saving ideas for furniture and storage units that will help create space.
With space saving furniture such as foldable tables, foldable desks, space saving chairs, space saving sofas, and storage units that fit any space is the best solution for a small apartment, transforming a loft or create more space in a dorm room.
Wall Mounted Table & Desk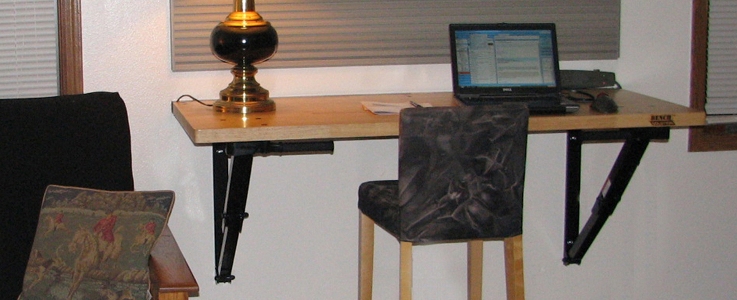 When you have to take your work home or away at school, having a sufficient work area takes up a lot of space. A space saving idea, wall mounted table or desk can create a spacious work area giving you the option of folding the table/desk away when you need additional space. A wall mounted table/desk is an ultimate space saver. Having this mounted to the wall without legs in your way, your room will look more spacious.
Bench Solution offers you a great option for a wall-mounted table or folding desk. This table or desk is a wall-mounted, and folds up and locks into place when you need to use the table top space. The wall-mounted table/desk is a perfect space-saving option for a small apartment, loft or even a dorm room. Maximize your space with a Bench Solution foldable table top.
Space Saving Chairs & Sofas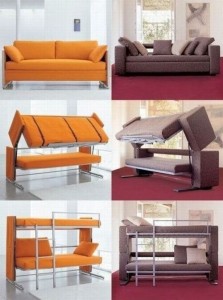 Living spaces are become increasingly limited due to modern life, and many are seeking simple ways to maximize space without compromising on convenience or design. A great way to save space without sacrificing style in a small apartment or loft area is with smart sofas and chairs.
Furniture with dual function can save space for you in small areas. A sofa that turns into a bed can easily save you valuable space in a family room, bedroom or loft. Modern style lounge chairs are made to fit in small areas. The classy slender looking chairs are great for a space-saving furniture idea.
Space Saving Beds
Wall beds is a perfect addition to any room you want to save space. Essentially, wall beds can transform any room into a multi-purpose room. The beds can be used to make room for your office, studio apartment, loft, guest room, craft room, play room, exercise room or as an extra bed in a bedroom. These functional and stylish type of beds are stored vertically in order to save space.