No doubt you've heard the phrase: a place for everything and everything in its place. It's a guiding principle for the Lean 5S system, a system designed to identify and eliminate waste caused by searching for information, equipment, and tools.
Being organized simply saves time. It also boosts productivity. Researchers at Princeton University—in an article published in the Journal of Neuroscience—proved that clutter and disorganized spaces affect a person's ability to focus. In short, it seems the cleaner the space, the cleaner the thought process.
Clearly, clutter is a problem for many people. As evidenced by all the self-help books, television shows, and magazine articles, there are plenty of folks who wish they could, once and for all, get organized.
Given all the advantages of organized living, wouldn't it be nice to have a home or office that is orderly and tidy; a place where you can locate the tools and information you need at a moment's notice? You can … with Bench Solution.
Pick a room; name a space, select a space … and Bench Solution has an ideal, customized organizational solution. Stomach
Office & Home Office Organization (Office Workspace)
If your office looks like a tornado just hit, consider all the options Bench Solution can provide. If space is at a premium, consider installing a wall-mounted table or folding desk. You can use the workspace when you need it and fold it down when you need more room. Bench Solution also has dozens of organizational accessories—including baskets, bins, racks and shelves—to make your office look as clean as a whistle.
Craft Table Organization (Craft Workspace)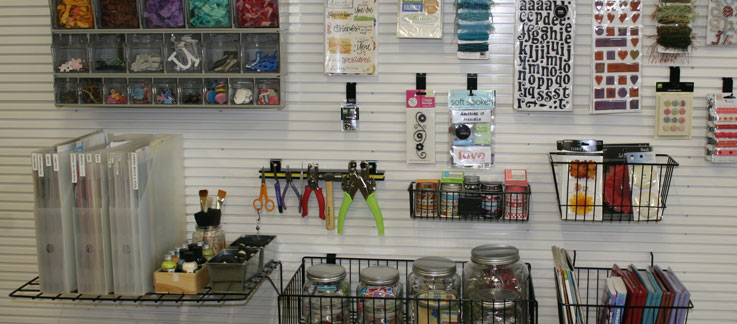 Extend your organizational efforts by de-cluttering your craft or hobby room. Whether you're a photographer, scrapbooker, sewer, or artist, you can make your life easier by creating room for all the tools of your trade. With an easy-to-install slatwall panel system, you can customize exactly how you'd like to store or display your equipment.
Kitchen Organization (Kitchen Workspace)
But why stop with your office or craft room? You can also easily and effectively save space and organize your kitchen. Design and install an IdealWall system and you can store all your pots and pans, utensils, dishes, glasses, and even spices in durable and practical spaces. You'll love the selection of baskets, shelves, and hooks that can make even the busiest kitchen look fresh and new.
Garage Organization (Garage Workspace)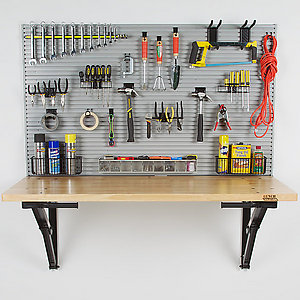 If you're like most people, you store and a lot of items in your garage and then forget about them. If you store too much, you soon run out of space for your cars and no longer have room to work. If so, it's time for an easy and quick garage makeover.
Bench Solution offers a unique, strong and innovative wall-mounted workbench that takes up absolutely no space. Fold it down when you need it; tuck it away when you don't. Further simplify your garage by adding an IdealWall system to store tools, bikes, sports gear, or lawn care equipment.
No matter what your need, no matter what space, Bench Solution has the perfect organizational answer to fit your needs. Save space and reduce stress today by contacting Bench Solution at 319-730-0340.