Are you tired of not having space due to all that clutter? Or are you forced to park your car in the driveway?



Then you're in luck, get organized again. With the right products installed in your home or garage can help you become organized and clutter-free. When tackling this subject, here are some helpful ideas and products you can use to create more space.
Floor Space. Traditional workbenches usually come in a basic size and shape that is adequate to work on, but tend to take up valuable space. A fold-away workbench is the ideal product that can save you space in your home or garage, while giving you that adequate space to work on.
"The fold-away workbench" by Bench Solution, is one product that offers you this solution. With their wall-mounted workbench, it brings a unique workbench that maximizes your workspace without sacrificing floor space. When not in use, it easily folds down, allowing you full use of your garage space. It is one of the most reliable workbenches in the industry, and is strong enough to support up to 400 pounds.
This is one solution you can use for a space saving idea.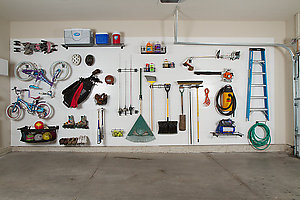 Wall Organization. The best way you can get rid of all that clutter is to get it off the floor and onto a slatwall. Adding a slatwall with its accessories can help you organize your room. You can utilize baskets, hooks, racks, shelves, bins and much more with your slatwall.
One of the best products in the industry is IdealWall, by Bench Solution. This is a custom slatwall you can install on your wall with many different accessories to fit all your needs. This item is also perfect to add with the Bench Solution folding workbench. It offers you a convenient way to free up space by keeping your workspace organized and clutter-free.
The IdealWall is "organization made easy".