Every man deserves a man cave, right? But with baby #3 on the way, there's no room left in the house and you've been banished to the garage, where you must compete with the minivan, your truck, and all the kids' toys. What to do?
Don't worry guys – with our complete guide to a space-saving man cave, you'll be on your way to man paradise in no time.
Flooring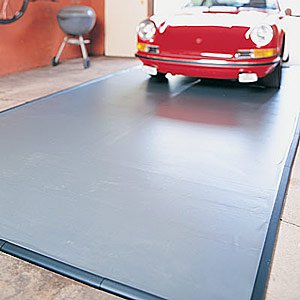 First things first. Rubber or vinyl floor mats. Not only do they delineate your man space, they're a necessity on cold concrete and prevent slipping and falling (not that you or the guys would ever get carried away). Unlike rugs, they don't collect dirt and debris and are easily wiped up in the event of spilled beer. But with limited space, there will probably be a car parked partially or all the way on the mat when your buddies aren't over. If so, opt for a garage mat like the one pictured below – they don't break down from weight, are large enough to cover huge areas of the garage, and will keep the concrete nice and new. Wins all around.
Seating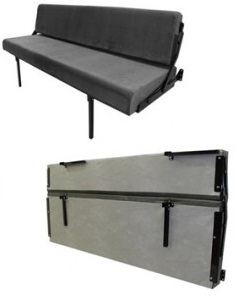 First of all, no man cave is complete without a couch. But couches take up lots of space, and if left out in a garage environment will collect lots of dirt and debris. The good news is that there are plenty of collapsible couches out there, including this handy wall-mounted option pictured to the right from www.modulinecabinets.com.
Oftentimes, a couch isn't enough for all of your man friends (a guy needs his space after all). Collapsible chairs are a great option, and they can easily be stored using slatwall accessories.
Beer storage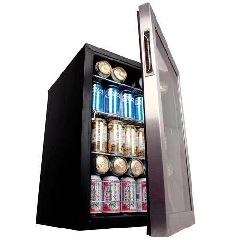 An absolute must. But before you pick up that 20-year-old fridge you saw on craigslist, consider a beer cooler. Beer coolers are a great way to chill lots of beer in a small amount of space, and with their lighted glass doors, just look cool.
Entertainment
We're usually talking 3 things here. TV, pool table and/or ping pong table,and dartboard. Dartboards are obvious space-savers, especially the ones that open like cabinets so you can keep all the stuff stored inside. As for the other things, read on.
Ping pong tableIf you're just into ping pong, you're in luck because most ping pong tables fold up for easy storage.
Pool tableIf you're just into pool, what you probably didn't know is that there are several collapsible pool tables on the market, like the one pictured to the right.  You can also get a ping pong table top for it.
Must-See TVObviously you'll want to opt for a flat screen TV, as these things save loads of room over their tube or projector-style counterparts. And the great news is that with a wall mount, your flat screen TV can be situated up on the wall or better yet, incorporated into your existing slatwall storage system! However, if you're worried about damage that might occur to your TV and you want to store it away when not in use, consider a portable TV console. You can either simply put wheels on a traditional-style console, or you can can get a little creative, like the one pictured above that we discovered on www.apartmenttherapy.com.
Wall-Mounted Workbench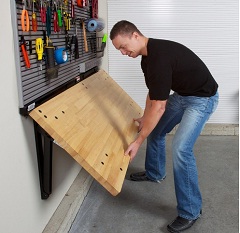 While the above suggestions are creative ideas for adding an element of fun and entertainment to your garage, it doesn't have to come at the expense of functionality. This folding garage workbench by Bench Solution mounts to your wall and is strong enough to handle all of your heavy duty projects. Here's the best part: when you aren't using it, you can easily lower it to its collapsed position and it takes up virtually no floor space.
Good luck with your man cave, guys (and yes, you can tell the wife that these were all your ideas)!